Published September 2020
A presentation about why pulmonary arteries change in pulmonary arterial hypertension was the winner of a PHA UK-sponsored prize at the 2019 National PH Research Forum. We spoke to presenter Angelos Anastasakis about his work, his winnings, and the importance of medical research in rare disease areas.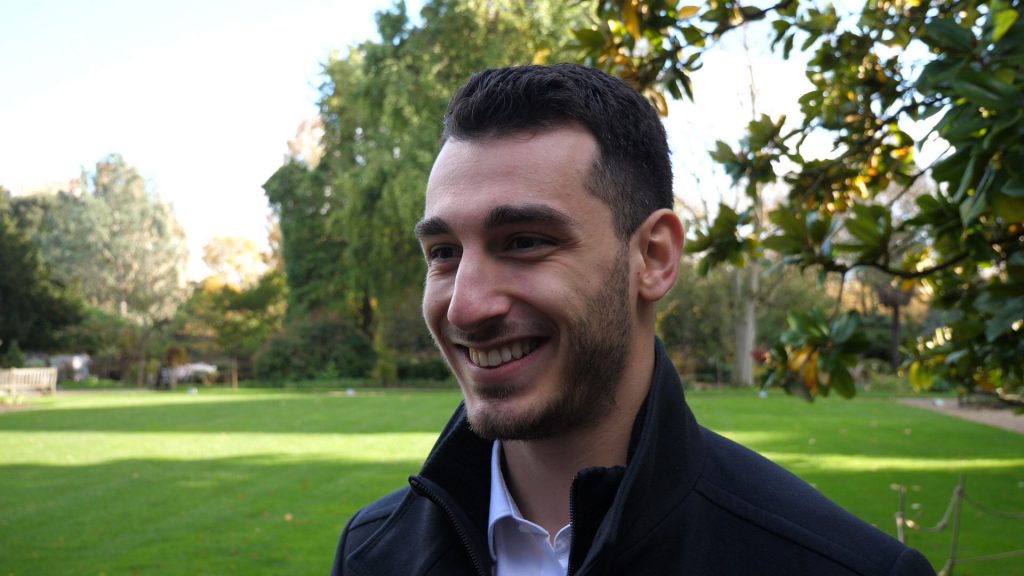 First things first, how did your research project come about?
I'm currently a fourth-year medical student at the University of Central London and during our third year of studies the medical school allows us to do a Bachelor of Science in a field that interests us.
I chose cardiovascular sciences and during this course we carry out a research project. Initially I investigated the immune cell response in pulmonary arterial hypertension (PAH). The project was very successful and I established a good relationship with the lab I was working at – Royal Free Centre for Rheumatology and Connective Tissue Disease. They offered me the opportunity to carry on researching in the field of PAH over the summer holidays – this time looking at metabolism – and I was delighted to be able to do this.
Can you tell us more about the research – what did it set out to do and what did it discover?
The research I presented at the National PH Research Forum was from the above project and it was led by a final year PhD student called Jerry Abu-Hanna, who came up with the ideas which we investigated.
We sought to understand why the pulmonary arteries in people with PAH become so thick and muscular. Hopefully by understanding these changes we can find a targeted drug to prevent them from occurring altogether.
All cells take up oxygen and glucose and use this to make energy in the form of adenosine triphosphate (ATP). This is called mitochondrial respiration. We wanted to investigate mitochondrial respiration in the muscular part of pulmonary arteries, which is made up of smooth muscle cells.
We looked at smooth muscle cells taken from the pulmonary arteries of PAH patients and from patients without PAH. We found that mitochondrial respiration was increased in smooth muscle cells from PAH patients, as they were taking up more oxygen and producing more ATP. This increased energy can then be used to make more smooth muscle cells, explaining why the pulmonary arteries are so much more muscular in PAH.
This energy or ATP is produced in mitochondria. Next, we wanted to see if mitochondria had an abnormal composition in smooth muscle cells from PAH patients to explain the increased energy production. We found that the mitochondria in PAH had an increased mass, which simply means they have more machinery which allows them to produce energy.
Our next task was to see why this mass was increased. The process which adds mitochondrial mass to cells is called mitochondrial biogenesis, which we found was working at a higher rate than normal in PAH smooth muscle cells. The process which removes mitochondrial mass is called mitophagy, which we found was working at a lower rate than normal in PAH smooth muscle cells.
The increased rate of mitochondrial biogenesis and decreased rate of mitophagy add more mitochondrial mass than there should be to smooth muscle cells in PAH. This gives them more machinery which then allows them to produce more energy. This energy is then used to make more smooth muscle cells – making the pulmonary arteries more muscular in PAH.
Another feature of smooth muscle cells in PAH is a resistance to the normal cell death cycle, meaning they survive a lot longer than they should. This causes an overpopulation of smooth muscle cells making the pulmonary arteries very thick.
To explain this, we looked at the levels of reactive oxygen species (ROS) that can disrupt the cell death cycle. ROS levels are normally tightly regulated, and the major source of its production is from mitochondria. We saw that the mitochondria were producing more ROS than they should be in PAH. This ROS allows the smooth muscle cells to survive, leading to thicker pulmonary arteries.
Hopefully we might really be onto why the pulmonary arteries change in the disease, and we can understand even more soon.
Why is medical research in the field of PH so important?
The disease is rare and therefore as a result, fewer funds and resources are available for research when compared to something more common.
Research is a necessity so we can find a way to improve patients' quality of life and reverse disease progression.
Plus, the disease is very poorly understood which reinforces the need for research. Currently, treatment tries to widen the pulmonary arteries to increase blood flow through them and decrease strain on the right side of the heart.
Despite this, it doesn't change the progression of the disease – it only slows it down. If through research we could find out exactly how the disease works, we could find an effective target that could stop the disease completely.
Your presentation won you £1000 towards developing your research. How do you feel about winning the PHA UK prize?
To be honest I was completely surprised. Being one of the only students and presenting to a room full of leading researchers and clinicians in the field of PH, I was just nervous about getting the talk done!
It was a lovely and unforgettable experience, after which I had to run back to the Royal Free for some teaching. I got a text when I got back to the hospital telling me I had won. I couldn't believe it!
It's also great news that our theories about how PAH works made sense to someone other than us.
It was a pleasure to be able to work with and learn from Jerry Abu-Hanna as part of this research. I must also mention Professor David Abraham, Professor Lucie Clapp and Dr Markella Ponticos. They were my senior supervisors, and nothing would have been possible without them.
What will you be using the winnings for?
I would love to be able to go to an international conference on PH to present our findings. Fingers crossed we'll have more work to be able to present by then. This will probably be after my summer exams in the next academic year.
Finally, what's next for you and your ambitions?
It's still early days and right now my goal is just to do as well as possible in medical school. Having said that, I would like to pursue a career in surgery. I couldn't tell you which branch with certainty, though cardiothoracic surgery has definitely caught my eye.
In parallel with this I definitely want to continue carrying out research, as it's through research that we can continue to advance the field of medicine and improve the quality of care for patients.
---
The National PH Research Forum takes place every year at the Chelsea Physic Garden in London. It brings together physicians, scientists and academics from all over the country and the PHA UK has provided sponsorship since 2012.
The annual forum is an opportunity for those involved in developing better treatment for people with PH to share research, experience and ideas.
Watch a video of our interview with Angelos and others at the PH Research Forum.