Tom Cooper is Lead Pharmacist (Cardiology) at Imperial College Healthcare NHS Trust, where his role has evolved to help provide a pharmacy service in the area of pulmonary hypertension.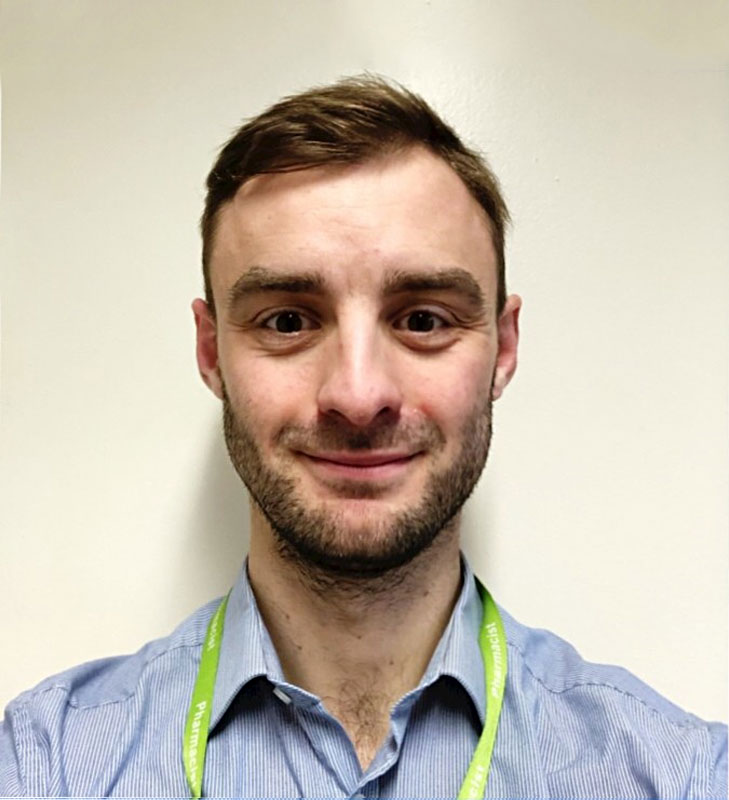 Tom fell in love with pharmacy as a teenager, motivated by the difference that medicines can make to people's lives. He has since completed an undergraduate degree, Master's degree, postgraduate diploma and independent prescriber course, devoting his career so far to Imperial. He has been Lead Pharmacist (Cardiology) for almost four years.
Can you describe your journey from student to lead pharmacist?
I studied Pharmacy at the University of Nottingham and graduated in 2013. I undertook my pharmacist pre-registration training year at Imperial College Healthcare NHS Trust and have remained there since.
During my initial year as a junior pharmacist I gained experience from various clinical and operational based rotations whilst also participating in a residency on-call service. I then moved to a permanent medicines information pharmacist role which provided me with some valuable skills and experiences.
During these roles I completed a postgraduate diploma in advanced clinical pharmacy practice with Queens University Belfast. The next role in my career was as a cardiac pharmacist. I have grown further and developed within this role and became an independent prescriber in June 2018 after completing this course with Medway School of Pharmacy.
Did you always want to be a pharmacist, and have you always had an interest in cardiology?
I initially thought I wanted to study medicine, but after gaining work experience in a community pharmacy after studying my A-levels I realised I had an interest in medicines, how they work and how this can be used to make a real difference and impact to patients' lives. From covering a range a wards as junior pharmacist I found cardiology the most interesting area, with conditions that affect such a large number of people.
What does a typical day at work look like for you?
The first thing I do is check for any handover from the day before or from the on-call pharmacist. I spend the rest of the morning on a cardiac ward; joining ward rounds and board rounds, reviewing patients, communicating with colleagues around any pharmaceutical care issues and speaking to patients to both gather information and educate them on a range of medications or medication related issues. Afternoons can include a range of tasks, including follow-up on outstanding tasks from the morning, completing other admin-based tasks, reviewing guidelines, or teaching junior rotational pharmacists. One afternoon each week I also provide a heart failure clinic service, with a focus on optimising medication.
What are the rewards and challenges of your job?
The rewards include getting to work with a wide range of people, learning from others and benefitting from a multi-disciplinary team environment. I enjoy being able make a difference to patients' lives, even from simple things such as a patient thanking you for explaining about a new medication.
Who or what inspires you in your working life?
Colleagues within the pharmacy department and within the wider Trust. Working at a large Trust and teaching hospital has given me the opportunity to work alongside some amazing healthcare professionals and specialists that are experts within their fields. I have the pleasure of working within a great, supportive pharmacy department and with fantastic doctors and nurses – notably with those in the heart failure team and pulmonary hypertension team.
What's the best piece of advice you've been given career-wise?
Never be afraid of new opportunities or challenges and stay committed in continuing to learn. Oh, and always be nice to nurses!
What are you most proud of in your career?
I think if I had to pick one single thing it would be becoming an Independent Prescriber. It's something that has opened up great opportunities going forward and has also allowed me to feel like I can make even more of a significant impact on patient care.
In what ways has your role changed during the Covid-19 pandemic?
During the peak of the pandemic, due to some previous Intensive Care Unit (ICU) experience my role changed to becoming a temporary ICU pharmacist, or at least helping to support our ICU pharmacy team. Since then, the main change has been the implementation of more remote reviews. At the moment (August 2020) my current heart failure clinic is mainly telephone and virtual consultations.
What are the biggest things you've learned since working in the field of pulmonary hypertension?
How much there is to learn! I've also learned a lot about the impact that PH can have on the lives of patients and those around them – and how useful it is to have a group of PH professionals to learn from and discuss things with.
What do you predict for the development of PH therapies over the next few years?
Tough question. I'd guess further oral prostacyclins options (to add to selexipag) and perhaps having a subcutaneous (under-the-skin) prostanoid option to help overcome some of the challenges and difficulties with IV prostanoid therapy. I also expect there to be a continuation of a more individual patient opinion-based approach to treatment plans.
Finally, how do you relax away from work?
I've always been interested in sport and fitness, so I like to keep active. This includes keeping active at the gym but also playing tennis a couple of times a week. I also enjoy my food and drink and have found myself enjoying wine more in recent years. I enjoy socialising with friends and eating out but also relaxing with my girlfriend – we have a favourite wine bar in Tooting, South London, where we live.

"I've learned a lot about the impact that PH can have on the lives of patients and those around them"

– Tom Cooper